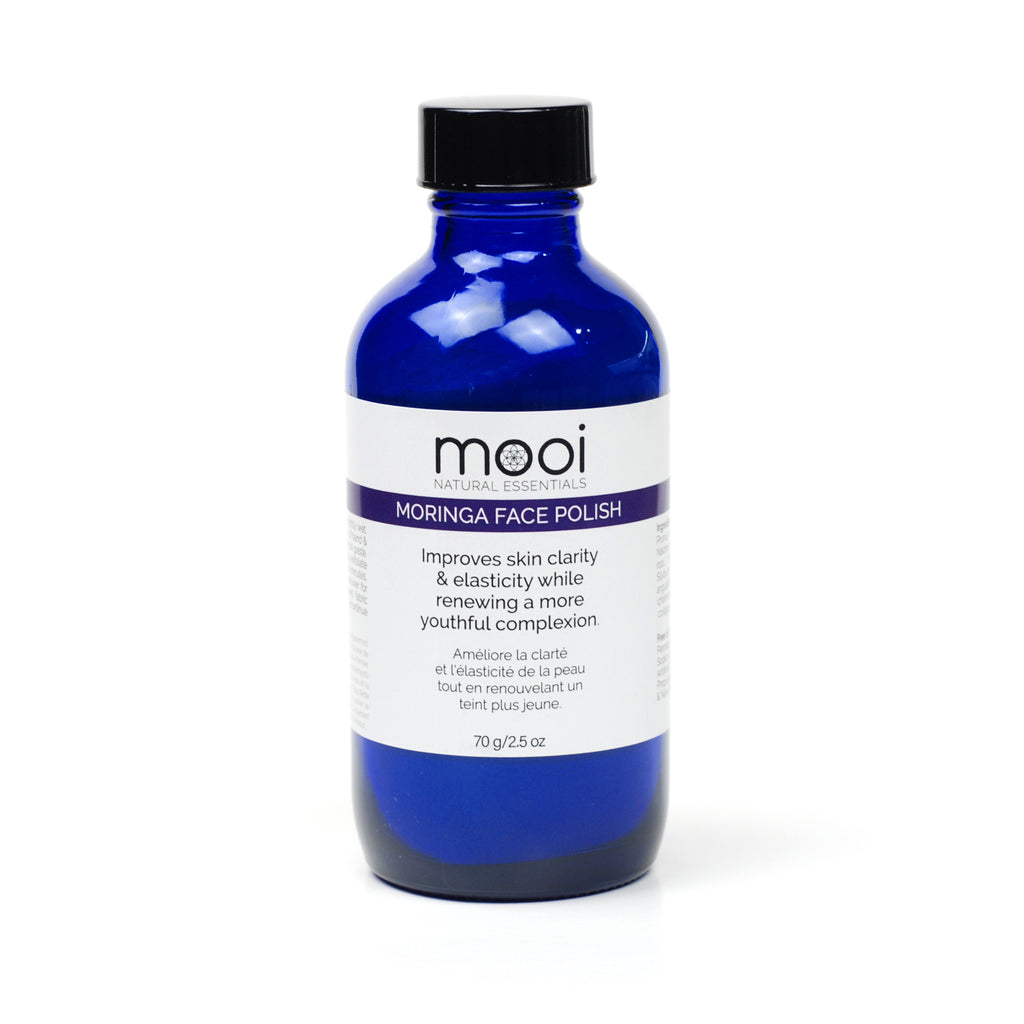 Moringa Face Polish
Natural exfoliants clean and polish the skin, leaving it feeling smooth and radiant. Packed with nourishing ingredients that remove impurities, reduce dryness, improve skin clarity and elasticity, revealing a visibly more youthful complexion.
Kaolin Clay improves blood circulation, gently exfoliates and cleanses the skin. It helps remove impurities without removing a skins natural oils, making it a great choice for dry or sensitive skin types.
Rhassoul clay is known to reduce dryness and flakiness and improves skin clarity and elasticity.
Niacinamide (Vitamin B3) helps heal sun damage to the skin, improving the appearance of aged, hyperpigmented and photodamaged skin while also helping reduce the appearance of fine lines and wrinkles. Niacinamide has been shown to help decrease skin blotchiness and roughness by acting as a soothing agent through improving skin hydration. 
Ashwaganda root powder and Milk Thistle powder contain high levels of antioxidants that savage free radicals to fight the signs of aging, such as wrinkles, dark spots, fine lines and blemishes. Ashwaganda is also proven to reduce cortisol levels and stimulate collagen production, keeping the skin youthful and glowing.
Lavender is beneficial for most skin conditions as it promotes the growth of new cells. It has a healing effect on burns and sunburn, and helps clear eczema, psoriasis and acne. It has also been reputed as a mild sedative and anti-depressant.
Chamomile is used for its soothing effects and its anti-inflammatory properties. It also has topical antiseptic properties which is ideal for for acne-prone skin.
Collagen can improve the appearance of aged and blemished skin because it is a major component of the skin's natural connective tissue, so it helps replenish it's youthful properties.
Turmeric is known for it's ability to improve the skin's complexion.
70g /2.5oz.
Rhassoul clay (Moroccan lava clay), Kaolin clay, Apricot seed, Pumice, Niacinamide (Vitamin B3), Ashwaganda Root, Moringa Leaf, Milk Thistle, Lavender, Chamomile, Collagen Protein, Turmeric. 
*See Ingredients for key ingredient benefit descriptions.
Free of Parabens, Phthalates, Petroleum, Silicone, Mineral Oils, Sodium Lauryl Sulphates, Artificial Colours & Scents, Propylene Glycol, and Nano Technology. 
---
Share this Product
---
More from this collection